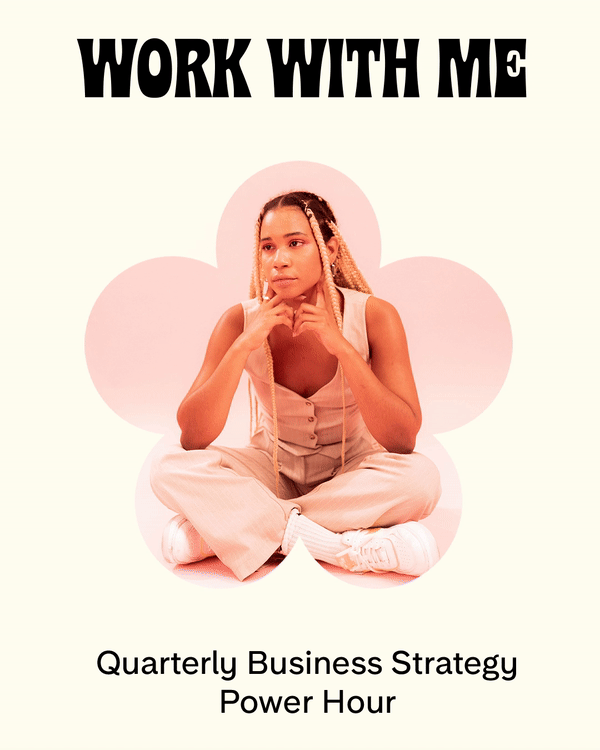 ☽ A 60 min deep dive into how to make your hopes & dreams for your biz a reality, and the chance to ask Jasmine anything.
☽ Personalised 12 week objectives for your business & the strategy to get you there.

☽ A clear view on how to move forward & what to prioritise.

☽ 30 days of Voice-note support for further questions & accountability.

☽ A Trello productivity system to keep track of your progress.
"I've read countless articles about reaching goals and they always felt unrealistic or driven by "hustle" culture. Jazz takes you through a system that can flex around how motivated you feel, no matter what you want to achieve. Seriously, I don't know why they don't teach us this stuff in school? Whether you're feeling completely stuck in a rut, or just need a little push, you should sign up!"

-Stephanie Boyle, Adultish
✽ You have ideas for growth but don't know what to focus on first

✽ You have big dreams but feel like you've been stagnant for a while

✽ You want to move your business forward but aren't sure how

✽ You're sick of getting bogged down in admin

✽ Your goals are always changing so you never end up finishing anything

✽ You feel overwhelmed at all the things you need to get done

✽ You're either a Product & Service Biz owner who's ready to put in the work
SOLD OUT
Sign up to be the first to be notified when more sessions drop in June