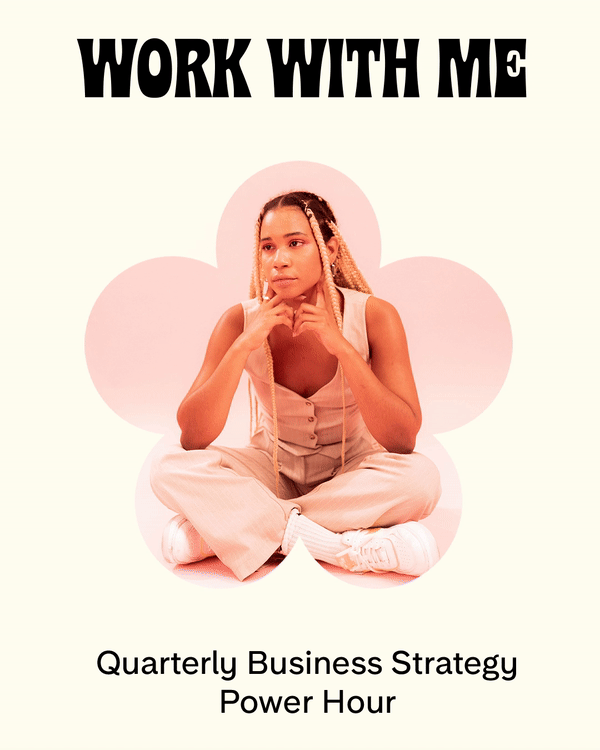 "I've read countless articles about reaching goals and they always felt unrealistic or driven by "hustle" culture. Jazz takes you through a system that can flex around how motivated you feel, no matter what you want to achieve. Seriously, I don't know why they don't teach us this stuff in school? Whether you're feeling completely stuck in a rut, or just need a little push, you should sign up!"

-Stephanie Boyle, Adultish


WHAT YOU GET
☽ A 90 min deep dive into how to make your hopes & dreams for your biz a reality,

☽ Personalised 12 week objectives for your business & a strategy that breaks down how to *actually* get you there.

☽ Q&A time with Jasmine to get her opinion on anything and everything.

☽ A judgement-free space to get your ideas, hopes & dreams validated by someone who genuinely cares.

☽ A brand new, shiny Trello workflow to keep track of your progress.

☽ A clear view on how to move forward & what to prioritise.

☽ Jasmine on your team for the next 30 days to answer any other Qs that pop up & accountability.

THIS IS FOR YOU IF
✽ You have ideas for growth but don't know what to focus on first

✽ You have big dreams but feel like you've been stagnant for a while

✽ You want to move your business forward but aren't sure how

✽ You're sick of getting bogged down in admin

✽ Your goals are always changing so you never end up finishing anything

✽ You feel overwhelmed at all the things you need to get done

✽ You're either a Product & Service Biz owner who's ready to put in the work
Price - £249

WHAT YOU GET

☽ 5x sessions in total:

✺ An intial 90 min deep dive into your biz, exploring your yearly vision and breaking this down into your next 3 month action plan.

✺ 3x 60 min sessions over the next few months to further explore each objective in your action plan (eg creating a launch plan or research project) or to realign priorities & keep you focused.

✺ A final 60 min session to review targets, discuss learnings & lay out next steps.

☽ Ongoing weekly Voice-note support for added accountability.

☽ 2x Trello productivity systems to keep track of your higher progress & for daily tasks.
THIS IS FOR YOU IF
✽ You want everything in the Strategy Roadmap, and more.

✽ You don't just want the initial strategy, you also want the ongoing support to action everything we outline & reprioritise throughout the quarter.

✽ You either don't have any strategic planning systems in your business or your current systems aren't working for you.

✽ You tend to lose motivation easily & need ongoing support & accountability to stay focused.

✽ You have lots of plans in the next few months and need support creating a strategy for each of them.

✽ You're working towards a big launch, or several launches.


✽ You're serious about taking your business to the next level- whatever stage you're at now.

Price - 3x payments of £329

01. THE STRATEGY ROADMAP

✽ 1x 90 min session
✽ 30 days voice note support
✽ Trello workflow



£249

02. THE STRATEGY 360°


✽ 1x 90 min session
✽ 4x 60 min sessions
✽ Voice note support throughout the programme
✽ Trello workflow


3x payments of £329

03. THE STRATEGY POWER HOUR
✽ 1x 60 min session
£149